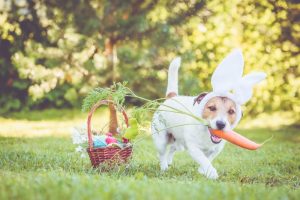 Oh, the season of buds and blossoms has almost arrived! For many, this means that preparations for Easter egg hunts and family brunches (in tiny groups) are underway. Guess who loves to be underfoot in the kitchen or out in the backyard? The family pet, of course!
Pets may be just as excited as the kids are (or they could be hiding out until the holiday passes), but one thing is certain: without a cautious approach to Easter pet safety, they could be in danger.
Continue…
It's hard to resist the pleading eyes or imploring whines from your furry best friend – especially when you're eating or preparing something utterly scrumptious. While it may be your natural inclination to share the best things in life with your pet, giving them certain people foods can have terrible consequences. The good news is that you can avoid a pet poisoning and still shower them with love with healthy alternatives.
Continue…
No matter how old they get, pets are sort of like human babies. They experience the world through their mouths, and a great many things they try to lick, chew, or consume shouldn't be anywhere near the floor. Everything from human foods and plants to medications and chemicals can land your pet in the emergency room. Learn how you can prevent a pet poisoning and protect your pet's present and future.
Continue…