Veterinarians
Dr. Hailey Bertrand

DVM, Practice Owner
Hello! My name is Dr. Hailey Bertrand and I am very excited to be the Veterinarian and Owner of Parkside Animal Hospital. Being able to provide the kind of veterinary medicine that we strive for at Parkside has been a lifelong goal for me. It all started with my childhood cat, Linus, who lovingly tolerated being endlessly fussed over, dressed up, and toted around and has progressed throughout my life. I was thrilled to get into the Ontario Veterinary College after two years of science at the University of Guelph and graduated as a Veterinarian in 2008.
I can often be found at the barn with my horses, Abbott (an Oldenburg gelding who is a snuggle bug and a challenging partner) and Murphy (a Trakehner gelding who is a 10 on the hot/crazy scale), with my whippet Johnny and pocket bully Lilah or chasing around an adorable 4 year old named Briar with my husband Chris. The best part of my job is the people and pets I have the pleasure of interacting with. My special interests are dermatology (especially allergies), internal medicine, reproduction and laparoscopic surgery.
Dr. Nicole Holden

DVM
Hi! My name is Dr. Nicole Holden and I am so excited to be a Veterinarian on the Parkside Animal Hospital Team!
Originally growing up in North Bay, I was always split between my two passions, animals and dance. After 2 years of university in Toronto studying Dance, my life did a 180 and found me studying Veterinary Medicine at Massey University in New Zealand (I guess the animals won!). I spent six years in New Zealand pursuing my dream of becoming a veterinarian (while traveling the world!). When I graduated as a Veterinarian in 2012, I couldn't wait to move back to my hometown and get started. I share my house with my beloved dog Daxter – a mostly blind Golden Retriever I brought home with me from New Zealand, Larry – my ginger, belly-rub loving cat, and Chupy – the chattering cockatiel.
Being able to provide medical care to animals in my hometown, and being a part of such a compassionate and caring team has always been my career goal. I look forward to meeting you!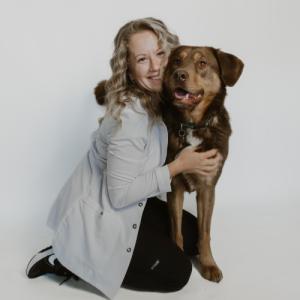 Dr. Julie Hansford

DVM
Hello there! My name is Dr. Julie Hansford and I am beyond thrilled to be one of the veterinarians a part of the Parkside family. Born and raised in North Bay, at the ripe age of four I asked my mother if it would be okay if I spent most of my time with animals. Her response was "why don't you become a vet" - and the rest was history!
My love of animals and the outdoors lead me to obtained a Bachelor's of Science in Zoology at the University of Guelph, in which after completion I walked across the street to the Ontario Veterinary College for my Doctor of Veterinary Medicine degree. The next four years solidified my passion for companion animal medicine and surgery, and upon graduation in 2020 I found myself exactly where I hoped I would be - providing compassion and care to the beloved pets of my hometown!
Outside the clinic you can find me hiking and canoeing with my northern mutt, Ernie, or cuddled up with a book and my tabby cat Morty. I have maintained my outlook since childhood that pets are first and foremost family, and that is exactly how I plan to treat yours. Looking forward to meeting you and your furry companions soon!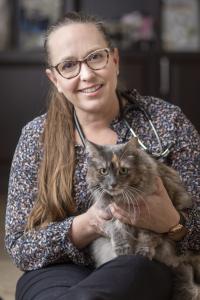 Dr. Kelly St. Denis

MSc, DVM, DABVP (feline practice)
Hello! My name is Dr. Kelly St. Denis and I am one of six Canadian board certified feline medicine specialists, board certified with the American Board of Veterinary Practitioners in the specialty of feline practice. While I have been living in Southern Ontario for many years, North Bay is my hometown. I recently relocated to the area and have been delighted to be back.
In my early years of post secondary education I earned degrees in molecular biology and immunology. I spent a number of years in Toronto working in the field of cancer research after which I turned my attention back to my childhood passion, veterinary medicine. I graduated from the Ontario Veterinary College in 1999. From 2007 to 2020 I owned and operated the Charing Cross Cat Clinic in Brantford, Ontario, a veterinary clinic exclusively for cats. Since earning my board certification in feline practice in 2013, I have expanded my activities, and am now an online consultant, an author, an editor, and an international lecturer on all things feline. I spend a good part of my time sharing my knowledge about cats with other veterinarians and veterinary teams.
In my spare time I enjoy outdoor activities such as snowshoeing in the winter and back country canoe camping in Algonquin Park in summer. All good reasons to move back to the Bay area, in addition to being close to my sister and her family, who live here too. I have 2 grown children, who are currently in school, finding their passions in life. My partner Dale and I live with 3 cats: Nala, Mary and Bean Sprout.
I am very excited to be working with the team at Parkside Animal Hospital. They are an amazing group, and the hospital is a Cat Friendly Certified Practice, all of which goes a long way to making a cat's veterinary visit a positive, engaging experience. There's a room here just for cats, and that is where you'll find me! I look forward to meeting you and your feline friends in the years to come!
Registered Veterinary Technicians
Ali Tafts

RVT
Hello! My name is Ali and I am a Registered Veterinary Technician. I graduated from Ridgetown College in June 2014 and got registered the same year in November. I have been working in Southern Ontario as an RVT up until May 2016 when I moved north and joined the team at Parkside. In practice, my special interests include dentistry, canine nutrition, and client education.
Outside the clinic, I enjoy spending my time in the outdoors with my two Labradors, Benelli (pictured here) and Tucker. Going to the cottage in Pointe Au Baril to spend time with family, exercising, and hiking are just a few of the things we like to do as a family. I'm very excited to have joined Parkside, and can't wait to meet all of your wonderful four-legged companions!
Shannon Brydge

RVT
Hello! My name is Shannon Brydge and this is my Doberman Oakley. I am a Registered Veterinary Technician. I graduated from St. Clair College in 2016 and immediately gained my OAVT registration status. After spending a few years working in Southern Ontario at a very progressive and highly reputable clinic, I decided it was time to come back to my hometown roots of North Bay.
Outside of the veterinary world, I am a competitive bodybuilder, which helps to naturally encourage my love of animal health and nutrition. I have a special interest (obsession) in cardiology, as well as nutrition. I spend an abundance of time doing continuing education and furthering my knowledge to best serve my patients and team! At home, with Oakley, I also have a fluffy white kitty named Kevin. I can't wait to share my passion for education and advocacy for your furry loved ones.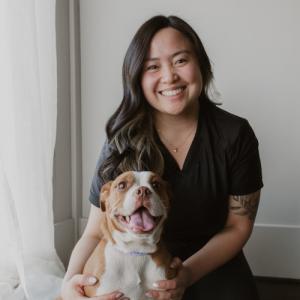 Megan Rainbow

RVT
Hello! My name is Megan Rainbow. I graduated from Northern College in 2021 and became registered in 2022. I also have my Bachelor of Health Science in Kinesiology from Ontario Tech University. I absolutely enjoyed my first few years working in human rehabilitation but realized my heart was not in it. I have always loved working with animals and could always be found playing with the dog at the family party instead of the other kids. I applied to veterinary technician programs, got accepted, and knew on my first day of school this was the profession I was made for. I have special interests in radiology and emergency medicine.
Outside of the clinic, I'm either spending time outdoors with my Labrador, Roxy and Bulldog mix, Keisha or curled up on the couch reading a book with my calico mix, Goose and my orange tabby, Samson. I am so excited to be a part of the Parkside family and can't wait to meet you and your furry companions!
Client Care Specialists
Samantha Vardy
Hey there! My name is Samantha (aka Sam #1) and I am the receptionist at Parkside Animal Hospital. I have been working in the animal health industry since 2011 and have enjoyed every minute of it. I am currently owned by two dachshunds! Oscar, and Mya. They enjoy going for walks-in the summer of course (they don't really like the cold all that much), chasing small rodents in their backyard, and burrowing themselves into any blanket-like thing they can get their little paws on!
My love for animals started before I was knee high to a grass hopper. My first pet was when I was 11 months old and was a white cat named Snowball. He seemed to follow me everywhere, but it may have been me following him! Since then I have had almost every kind of pet, from newts to turtles, degus to rabbits to hedgehogs, birds, and of course cats and dogs.
I am very happy and proud to say that I am one of the team members of Parkside Animal Hospital and I look forward to having the opportunity to meet you and your fur babies!!
Allie Smith
Hi, my name is Allie and I haven't met a little dog I don't like! My love for animals started at a young age with my first pet, a cat named Tango! From there my passion only grew. When I was 8 my grandma signed me up for horseback riding lessons and that's what my world has revolved around since. I met my heart horse, Cooper, in 2007 and we did everything together from horse shows to trail rides. Cooper is still around today enjoying his retirement at the ripe old age of 24!
When I'm not at the farm I am probably hiking with my husband Alex and our 2 dogs Olive and Wesson or curled up at home watching true crime documentary's with our cats Sushi and Clark. I'm looking forward to meeting you and your furry companions!
Paige Marcotte
Hi there! My name is Paige. In the picture above with me, is my dog Kane. I also have a cat named Frank and a horse named Tizzy.
I have always had a love for animals. Especially cats, dogs and horses. It all started with a little grey family cat who we called Sassy. Then both of my aunts got dogs and every time I saw them as a younger child I would always ask to walk them and play with them. Eventually, at 8 years old I asked my mom if I could start horse back riding lessons. From that point on horses practically consumed my life. I started taking lessons regularly. After a few years of training, I found my horse Tizzy. We worked our way up to showing in the jumper ring together for quite a few years.
Although we are now retired from showing, I still enjoy riding my horse Tizzy in the trails or sand ring at the private barn I board her at. You can also find me out for bush walks or on side by side rides with my fiancé Nick and my dog Kane or doing yoga/working out with my cat Frank by my side.
I am incredibly proud to be a part of the Parkside Animal Hospital team. I am grateful to have the ability to learn from each and every wonderful person that I work with here. I look forward to assisting you with all of your fur babies needs, as well as meeting you all!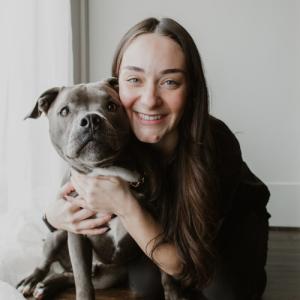 Alisen Morissette
Hey there! This is me, Alisen Morissette, also known around the clinic as "The Dog Whisperer". I am the face that meets your fur babies at the door and gives them constant snuggles throughout the whole appointment. What my days look like are pretty fun, other than the amount of animal excrement I clean up... that part not so fun.
Since a young age, I have always had a passion and love for animals. I'd say it first started when I use to run outside after a downpour and collet slugs and keep them as "pets". I also have always been the one in my family to take home stray dogs and cats to help find their way back home.
In the future, I plan to attend college, to become an RVT, but in the meantime, I have been given an opportunity to work with an amazing team and meet all of our lovely clients and patients!
Lauren Goodridge
Hey! My name is Lauren Goodridge and pictured with me is Guinness, my black Labrador retriever. My passion for animal care began when I started horse back riding at a young age, tending to the various needs of my horses. Through horse back riding I was lucky enough to meet Dr. Bertrand and I am thrilled to be able to work for her at Parkside! Some of my roles at the clinic include preparing comfy homes for your pet to stay in while with us, ensuring the clinic stays in pristine condition, and most importantly trying my very best to make your pet feels as comfortable as possible during their time at Parkside.
When I am not at the clinic, I enjoy spending weekends at my cabin with family where you will find me fishing, four-wheeling, enjoying the sun, and spending as much as time as I possibly can outdoors! In regards to schooling, I just recently completed teachers college at Nipissing University and look forward to what the near future has in store. I am incredibly proud to be apart of the Parkside Team and look forward to meeting you and your pet!
Christopher Sluman
Hello! My name is Chris, better known as "Dr. Bertrand's Husband". I can often be found around the clinic doing renovations or fixing anything that needs repairs. I have also been known to help Hailey and the team on weekends and evenings with emergencies. My training began pretty shortly after our first date lol. I have also had the pleasure of answering the phone when absolutely needed (when the rest of the team is needed for patient emergencies) and am so very thankful that everyone goes easy on me.
Being able to help the patients and assist the ladies at Parkside has been a wonderful addition to my life and very different from my day job of construction. Having been a professional horseback rider (yes, that is where I met my wife), previously caring for animals, albeit bigger ones, has always been something I have been deeply immersed in and very much enjoy.
Tanya Sinclair
Hello. My name is Asha. The lady holding me is my mama, Tanya Sinclair. When I was a kitten, 6 years ago, she rescued me from the aftermath of the Toronto Propane Explosion. OK, I admit it really wasn't that dramatic! But she did find me the morning following the explosion after the ashes had settled, and that's why she named me Asha. My mama took me in knowing that I had a fragile heart and not knowing how long I might live. She brought me to North Bay, where she has lived for almost 20 years.
My mama's passion for accounting and love for furry companions is what brought her to Parkside Animal Hospital. She tells me that Parkside has become her "happy place." She feels like she is writing the financial story of the many sweet puppies and kitties lovingly cared for by the wonderful staff. After my first visit, Parkside became my happy place, too.
Leah McVey
Hi my name is Leah McVey and this is my retired police dog Ella! I am a veterinary Assitant, Meaning I get to cuddle your pets during exams, clean the clinic and occasionally answer phones when it's busy. I've had the pleasure of knowing Dr. Bertrand since I was 6 years old through our mutual passion of horse back riding. I first started working at the clinic through a high school co-op and have been lucky enough to continue working here during the summers as I attend Carleton university. I grew up surrounded by dogs, cats, horses and goats so the opportunity to work here and spend time with your pets is wonderful!
Melanie Pigeau
Hey! I'm Melanie and these are my Dobermans; Rya and Beau. I am very happy to be one of the Client Care Specialists at Parkside Animal Hospital. I have worked in the veterinary industry for 25 years and taking care of clients and their pets is incredibly rewarding. I also wear many hats! I am a Sipologist with Sipology and drive around in the early mornings doing lawn birthday displays of plastic animals. I also volunteer for the Lions Club and annually chair the Walk for Dog Guides.
I love anything Disney. My favourite holiday is Halloween and all things themed - every occasion must be an excuse for dressing up or decorating!!! My husband Troy and I enjoy our busy life together with our dobes and getting away to the camp when we can.
Vicky Gorecki