Protect Your Pet's Smile and Health
Protect Your Pet's Smile and Health
We've all forgotten to brush our teeth at some point or another. But imagine forgetting to brush your teeth for five years! Pets can't pick up toothbrushes on their own, they need our help when it comes to keeping their mouths clean and healthy.
If gingivitis (seen as a red line that forms above a tooth) sets in, it means bacteria is getting into the bloodstream, where it damages the organs (especially heart, liver, and kidneys) and immune system. Just like people, this affects life expectancy. Plus, rotten teeth hurt.
Signs of Tooth Decay
We examine your pet's mouth at every wellness visit to look for signs of periodontal disease, and we will make a recommendation regarding dental visits at that time.
Symptoms to watch for between visits include:
Bad breath
Difficulty eating hard foods, weight loss
Reluctance to chew on toys or rawhide treats
General lethargy due to pain and lack of energy
You can impact your pet's oral health by brushing their teeth (if possible), and offering special diets and chew toys. Caution must be taken with chewing. Pet's jaws are strong, and they can fracture teeth on hard objects. Our rule of thumb is if you can't bend it in your hands, it poses a risk.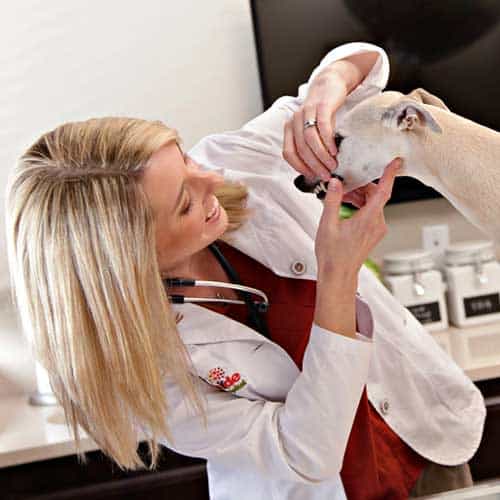 Your Pet's Dental Visit
We schedule just one dental surgery each day to allow plenty of time to be thorough. Safety is always a priority. We require that older pets (7 years of age for dogs and 8 years of age for cats) have bloodwork and chest x-rays prior to anesthesia.
Your pet's dental examination includes inspecting and charting each tooth, dental x-rays, extractions as needed, cleaning and polishing, and recovery time.
We monitor your pet's heart rate, blood pressure, pulse oxygen, and other vitals, and a veterinary technician is in the room with the doctor.
Dental Diagnostics
Our digital dental x-rays are vital when it comes to determining the scope of your pet's dental needs. We perform x-rays before and after your pet's procedure to ensure that we've addressed all tooth decay.
At Parkside Animal Hospital, we are committed to providing your pet with exceptional veterinary care. That's why the whole team wears a smile when we know we have "left no rotten tooth behind" and have made a real difference in your pet's life!
Call us today if you have concerns about your pet's dental health.