Parkside Animal Hospital's Top 5 Pet Care Blogs of 2018
Parkside Animal Hospital's Top 5 Pet Care Blogs of 2018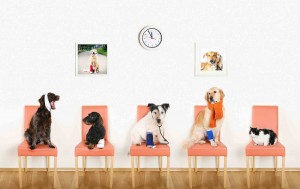 The holidays may be winding down, but we still have plenty of time to feel grateful and reflect on the wonderful, exciting and fulfilling year it has been here at Parkside Animal Hospital. We're truly lucky to be a part of the North Bay pet care community.
Our weekly educational blog is fun to write, and we're even happier that it seems to be fun for you to read. Each year we take a look at the most popular blog posts, and share them with you, here. So without further ado, here are Parkside Animal Hospital's top 5 most read pet care blogs of 2018.
Parkside Animal Hospital's Top 5 Blogs of 2018
#5: Wheels and Paws: Simple Strategies for Walking with Your Baby and Dog
Welcoming a new baby into the family is one of life's most exciting and important milestones. The first baby changes everything, including the relationship we have with our canine companions. The numerous and leisurely walks we once took for granted now must include a stroller, diaper bag, and precise timing, all of which can add… Keep reading

#4: Practical Ways to Prevent a Pet Poisoning
No matter how old they get, pets are sort of like human babies. They experience the world through their mouths, and a great many things they try to lick, chew, or consume shouldn't be anywhere near the floor. Everything from human foods and plants to medications and chemicals can land your pet in the emergency room. Read more…
#3: Pot and Pets: What Canada's New Marijuana Laws Mean for Pet Owners
While marijuana enthusiasts are understandably pleased with this new law, pet owners must take care to prioritize their pets' safety when it comes to marijuana. At Parkside Animal Hospital, we want to make sure our valued readers understand the risks involved when it comes to pot and pets. Read on!

#2: Build Your Pet First Aid Kit
Although we don't like to think about it, emergencies can and do come up, especially when you own a pet. In those situations, it's a great comfort to have a basic understanding of pet first aid as well as a well-stocked pet first aid kit. Keep reading…
#1: A Practical Guide: How to Know if Your Pet is in Pain
We all love our pets, and keeping them healthy and pain-free is a top priority. However, it's not always easy to tell if our pet is not feeling well, due to a basic survival instinct – and of course, the fact that they don't have language to tell us how they feel. Continue reading…
An Exciting Future
Looking forward, we're excited for a new year full of new friends and patients. And as always, we'll keep bringing you informative and timely educational topics in this blog. If there is something specific you'd like to hear about, please contact us and let us know.
And, from our family to yours, Happy New Year!