Wheels and Paws: Simple Strategies for Walking with Your Baby and Dog
Wheels and Paws: Simple Strategies for Walking with Your Baby and Dog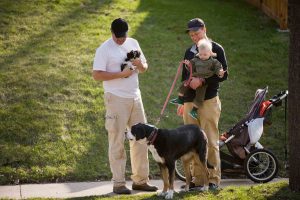 Welcoming a new baby into the family is one of life's most exciting and important milestones. The first baby changes everything, including the relationship we have with our canine companions. The numerous and leisurely walks we once took for granted now must include a stroller, diaper bag, and precise timing, all of which can add a layer of complication to the ever-unfolding world of new parenthood. What is a responsible parent and dog owner to do?
Walking a baby and dog together isn't always easy at first, but it's certainly possible. As with most things in life, planning, preparation, and patience are the key factors in developing a walking strategy that works for you and your pet.
The Gear
Regardless of your child's age (newborn, baby, or toddler), your two main choices for taking baby for a walk include a stroller or wearable carrier/wrap/sling. There are pros and cons to both and weather, walking conditions, and your dog's personality should play a role in your decision.
A sturdy leash is a must when heading out for a walk with a baby and dog. Avoid retractable leashes and leashes that are too long, as these can easily become tangled up in stroller wheels, leading to a disastrous situation for everyone. For added control, consider a front-pull harness if your dog is prone to pulling.
Practice Makes Perfect
Even if your dog is a pro at loose leash walking (something we highly recommend), the addition of a stroller can and will change the dynamics of the daily walk. Your hands are now occupied with a stroller, and passing cars, squirrels, and other dogs can spell big trouble if both you and your dog aren't prepared.
Assemble the stroller before the baby is born, and start your training sessions as far in advance of the new arrival as possible. Allow your dog to get used to the stroller as it sits motionless in your living room or driveway, and gradually work up to short walks around the neighborhood. Offer praise and treats for good behavior, and practice, practice, practice!
Walking with a Baby and Dog
After all your preparation and practice, you're finally ready to hit the streets with your baby and dog!
Don't attach the leash to the stroller

– As tempting as it may be to have your hands free during a walk, clipping the leash to the stroller gives you almost no control in the event your dog to bolt.

Proper positioning is key

– Whenever possible, position your dog between the stroller and the grass or edge of the road, as far away from other people and dogs as possible. This cuts down on the risk of reactivity, and gives passerbys more space.

Know your route

– Stick with easy, familiar routes until you get the hang of your new walking routine.

Try, try again

– Life with kids and pets can be unpredictable, and you never know what might happen when you leave the house with both. Don't be afraid to pack it in and head home if it becomes too much. After all, you can always try again tomorrow.
Your team at Parkside Animal Hospital wants to support you and your pet every step of the way as you navigate life with a new baby. Don't hesitate to reach out to us regarding your questions or concerns. We are here for you!