Spring Has Sprung: How Seasonal Changes Affect Pets
Spring Has Sprung: How Seasonal Changes Affect Pets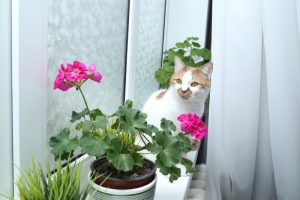 You know the feeling, when the rain comes and the temperatures start to warm up. It's Kleenex and allergy meds time, right? Some people even get headaches and other symptoms of the change in temperature and barometric pressure. Seasonal changes affect pets, too, from allergies to warmer temperatures that pose risks.
To better prepare you and your four-legged for the upcoming spring, here are some recommendations to alleviate some of the seasonal effects. Read on for more information.
Seasonal Allergies in Pets
Like us, seasonal allergies pick up as the weather warms and plants, trees, and shrubs go into full bloom. These pollens and spores can create several symptoms in pets, depending upon how allergic they are. Reactions to allergies can produce:
Nasal discharge

Watering of the eyes

Coughing

Sneezing

Chronic scratching

Rubbing face

Chewing paws and legs
Allergens can also include mold and dust and occur more severely during the transition into spring (and sometimes fall). Untreated allergies can result in secondary infections, fur loss, skin problems, and so on.
Warm Weather Awareness for Pets
Another issue to be aware of is warm weather. If your pet is outdoors, warm, sunny days can put them at risk of sunburn or heat exhaustion, depending on your pet's tolerance. When it is warm, be mindful of how much time your dog spends exercising outside. Opt for mornings, before the noonday sun is high.
Of course, never leave your pet inside the car. Heat exhaustion and hyperthermia can occur in a matter of minutes with temperatures over 30 C degrees. As a matter of fact, when it is 30 degrees outside your car's internal temperature to soar to well over 70. Always bring your pet with you or keep them at home, if you cannot.
Parasites Among Us
Parasites like fleas, ticks, and mosquitoes can survive (and thrive) year-round. But with the warming temperatures, they are out in droves. These pests that annoy us can put your pet at risk of diseases carried by parasites, including heartworm, Lyme disease, ehrlichiosis, and leptospirosis.
Maintain your pet's parasite protection, including flea, tick, and heartworm control, throughout the year.
Plants that Are Poisonous to Pets
This time of year is when you and your four-legged spend more time outdoors. This includes planting your favorite plants in the garden, along with shrubs and trees. There are a few toxic plants to be aware of, like azalea, oleander, lilies, crocus and daffodils, yew, and sago palm. Consult the ASPCA's list of toxic plants to avoid putting your pet at risk. 
Several types of mulches, such as cocoa, as well as fertilizers containing Metaldehyde (Slug Bait) are also quite toxic. Opt for natural pet-friendly, fertilizers and amenders.
Seasonal Changes Affect Pets
The spring season is on the way and that's exciting for outdoor lovers. But be better prepared to face these seasonal changes by keeping your pet protected during the transition into spring.
For more information on seasonal changes and your furry one, please call the friendly team at Parkside Animal Hospital.